California firefighter saves US flag just feet away from flames of Dixie Fire
A
s the Dixie Fire swept through Greenville, Calif., Wednesday, leveling its downtown area, a firefighter was photographed saving an American flag from the side of a road with the inferno raging behind him.
A series of images taken by AFP photographer Josh Edelson shows the devastating fire and the destruction left behind the following morning in the historic town, which was established during the California Gold Rush.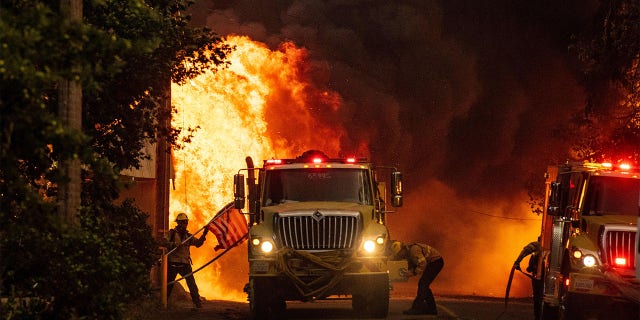 Several images show the moments when a firefighter reached for the flag, removed it from its pole, and carried it to safety as flames twice as tall as the firetruck raged behind him.
Authorities were not immediately able to identify the firefighter or his unit. A huge number of firefighters have deployed to battle the massive fire, the sixth-largest in California history and the biggest one so far this year.
A Wednesday Facebook post from the Plumas County Sheriff's Office warned people in the area, "you are in imminent danger and you MUST leave now!!"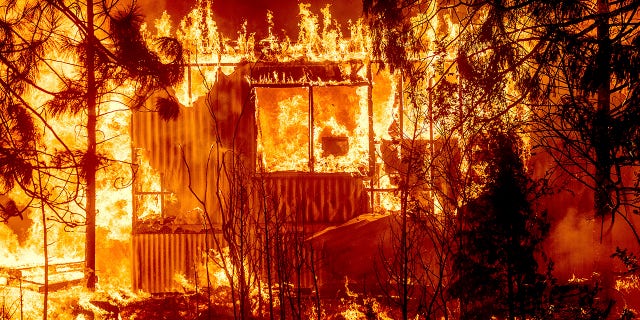 The fire sparked three weeks ago and encompassed more than 504 square miles in the counties of Plumas and Butte as of Thursday evening. Hot, dry conditions and whipping winds have exacerbated the situation, along with dry underbrush.
It devastated Greenville.
"The Dixie Fire burnt down our entire downtown," Plumas County Supervisor Kevin Goss wrote in a Facebook post Thursday. "Our historical buildings, families' homes, small businesses, and our children's schools are completely lost."
In another post, he shared two photos of a street running through town. One showed tidy buildings and a couple of cars parked along the shoulder on a sunny day. The other showed one side of the street leveled by fire and the other aflame.
~Fox
Guinea Coup: Soldiers Say President Taken And Govt Dissolved
G
uinea's special forces claimed Sunday to have captured President Alpha Conde and "dissolved" the country's institutions, in a video sent to an AFP correspondent, while the defense ministry said it had repelled their attack on the presidency.
"We have decided after having taken the president, who is currently with us (…) to dissolve the current constitution, to dissolve the institutions; we have also decided to dissolve the government and the closure of land and air borders," said one of the uniformed and armed coup plotters in the statement, which has also been widely circulated on social networks but has not been broadcast on national television.
---
The coup plotters, with whom AFP's correspondent confirmed the source of these images, broadcast a video of President Conde in their hands. They ask him if he has been mistreated, and Alpha Conde, in jeans and a shirt on a sofa, refuses to answer them.
For its part, the Ministry of Defense said in a statement that "the insurgents (had) spread fear" in Conakry before taking the direction of the presidential palace, but that "the presidential guard, supported by the defense and security forces, loyalists and republicans, have contained the threat and pushed back the group of attackers.
AFP
Bodies Of Service Members Killed In Kabul Airport Attack Arrives US
P
resident Biden traveled to Dover Air Force Base Sunday morning to receive the bodies of 13 American service members who were killed in an attack at the Kabul airport in Afghanistan.
The president and first lady Jill Biden were both greeted by Col. William C. McDonald, Vice Commander of the 89th Airlift Wing; Sarah Husemann, wife of Col. Matthew S. Husemann, Commander, 436th Airlift Wing; and Col. Chip W. Hollinger, commander of the Air Force Mortuary Affairs Operations at Dover Air Force Base.
Eleven Marines, one Army soldier and a Navy corpsman died in a suicide bombing outside Hamid Karzai International Airport on Thursday. The ISIS-K group claimed responsibility for the attack seeking to disrupt the massive evacuation effort of Americans, Afghan allies, and third-party nationals outside the U.S.-held airport.
The fallen service members are Marines Staff Sgt. Darin T. Hoover, Sgt. Johanny Rosariopichardo, Sgt. Nicole L. Gee, Cpl. Hunter Lopez, Cpl. Daegan W. Page, Cpl. Humberto A. Sanchez, Lance Cpl. David L. Espinoza, Lance Cpl. Jared Schmitz, Lance Cp. Rylee J. McCollum, Lance Cpl. Dylan R. Merola, Lance Cpl. Kareem Nikoui, Navy Hospitalman Max Soviak, and Army Staff Sgt. Ryan Knauss.
A Navy carry team moves a transfer case containing the remains of Navy Corpsman Maxton W. Soviak, 22, of Berlin Heights, Ohio, Sunday, Aug. 29, 2021, during a casualty return at Dover Air Force Base, Del. According to the Department of Defense, Soviak died in an attack at Afghanistan's Kabul airport, along with 12 other U.S. service members supporting Operation Freedom's Sentinel. (AP Photo/Manuel Balce Ceneta) (AP Photo/Manuel Balce Ceneta).

---
The attack took place as U.S. forces were working to evacuate Americans and allies from Afghanistan following the Taliban's takeover of the country earlier this month. At the same time, they have been working to ensure their own withdrawal by the end of the month.
According to the White House, the U.S. has evacuated and facilitated the evacuation of roughly 114,400 people since August 14.
…Fox News Contributed To This Report
We'll Not Forgive, We'll Hunt You Till You Pay – Biden Vows Revenge On Kabul Terror Attack (VIDEO)
U
nited States President Joe Biden promised to track down and destroy the ISIS-K terrorists, who were responsible for the deaths of 13 American service members and dozens of Afghans in a double suicide attack on Kabul Airport.
He made the promise on Thursday, August 26, as he joined UK Prime Minister Boris Johnson in vowing to continue evacuation efforts in Afghanistan despite a "continued" risk of terrorist bombings.
The ISIS-K terrorist group is an offshoot of the terrorist organization Islamic State and an adversary of the Taliban, who control the country (IS).
ISIS-K claimed responsibility for the double bombing last night, August 26, which killed at least 90 people and injured more than 150 others.
Among the casualties were 11 US Marines, a US Navy medic, and another US service member screening evacuees at airport gates.
---
The Abbey Gate of Hamid Karzai International Airport, where US troops were screening Afghans for evacuation, and the nearby Baron Hotel, where thousands of Afghans, Britons, and Americans had been told to gather in recent days before heading to the airport for evacuation, were both targeted in the bombings.
Biden paid tribute to the "selfless heroes" who died while rescuing Afghans.
Despite the fact that the Pentagon is in the process of withdrawing all of its forces from Afghanistan, the Pentagon has warned that there is still an imminent threat of an attack at the airport and has now been directed to develop strike plans to target ISIS-K assets and leadership.
"Those who carried out this attack, as well as anyone who wishes America harm, know this: We will not forgive, and we will not forget," Biden said in a White House address.
He added: "We will hunt you down and make you pay."
The Prime Minister of the United Kingdom also condemned yesterday's terror attack, which is not believed to have killed any British troops or officials.
He also vowed to keep the rescue effort at Kabul airport going, where brave British troops were seen sweeping the perimeter last night following the double bombing.